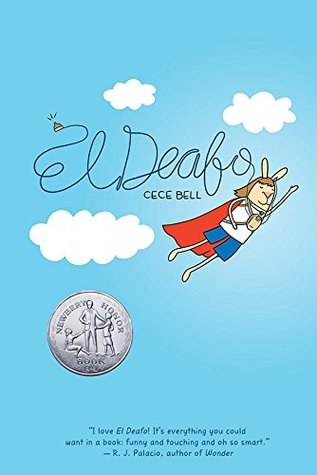 Starting at a new school is scary, even more so with a giant hearing aid strapped to your chest! At her old school, everyone in Cece's class was deaf. Here she is different. She is sure the kids are staring at the Phonic Ear, the powerful aid that will help her hear her teacher. Too bad it also seems certain to repel potential friends.

Then Cece makes a startling discovery. With the Phonic Ear she can hear her teacher not just in the classroom, but anywhere her teacher is in school–in the hallway…in the teacher's lounge…in the bathroom! This is power. Maybe even superpower! Cece is on her way to becoming El Deafo, Listener for All. But the funny thing about being a superhero is that it's just another way of feeling different… and lonely. Can Cece channel her powers into finding the thing she wants most, a true friend?

This funny perceptive graphic novel memoir about growing up hearing impaired is also an unforgettable book about growing up, and all the super and super embarrassing moments along the way.
Description taken from Goodreads.
---
I actually read this on the recommendation of an advanced younger reader, and I have to say, it wasn't exactly my cup of tea. I can see other kids enjoying it, but the writing was just a little bit too off for me. The narration sounded stunted and awkward, and I couldn't truly connect with Cece's character. I sympathized with her, but I didn't connect with her.
I think this is an amazing book to help readers learn about people with disabilities in a way that builds empathy and understanding, but outside of that, it wouldn't be my first choice for anything. The artwork felt really awkward, and there was nothing especially beautiful or stunning about it. If anything, I laughed at many segments of it. For that, I note its humor, but I wasn't too impressed by the art.
As for the story, this book follows Cece over the course of 4 or 5 grades. She struggles with her hearing and many different people who treat her differently because of it. She explores her disabilities, and I enjoyed following her through her ups and downs, and I wanted to hug her through it all. She gets taken advantage of or unintentioanlly made fun of by many people, and a lot of El Deafo consists of Cece learning to stand up for herself. By the end of the book, she starts learning to advocate for herself, and it was great to see that.
All in all, I would recommend this one. It's definitely not the greatest disability book I've ever read, but it's one of the first in middle-grade that deals with deafness. I think this book could do great things for younger readers, along with R.J. Palacio's Wonder and Sharon M. Draper's Out of My Mind. 3 stars.
pg count for the hardback: 248