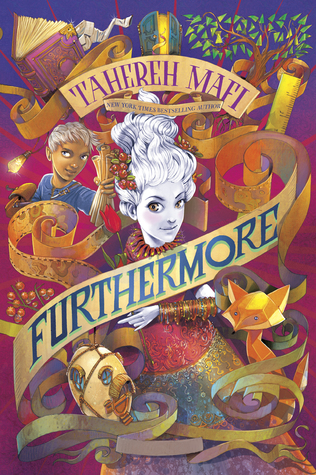 There are only three things that matter to twelve-year-old Alice Alexis Queensmeadow: Mother, who wouldn't miss her; magic and color, which seem to elude her; and Father, who always loved her. The day Father disappears from Ferenwood he takes nothing but a ruler with him. But it's been almost three years since then, and Alice is determined to find him. She loves her father even more than she loves adventure, and she's about to embark on one to find the other.

But bringing Father home is no small matter. In order to find him she'll have to travel through the mythical, dangerous land of Furthermore, where down can be up, paper is alive, and left can be both right and very, very wrong. Her only companion is a boy named Oliver whose own magical ability is based in lies and deceit—and with a liar by her side in land where nothing is as it seems, it will take all of Alice's wits (and every limb she's got) to find Father and return home to Ferenwood in one piece. On her quest to find Father Alice must first find herself—and hold fast to the magic of love in the face of loss.
Description taken from Goodreads.
---
I distinctly remember Taherah Mafi as being the victim of the first book I ever publicly ripped apart, not that I'm proud of that. That review was written a little over four years ago, and I've since learned a lot as a blogger and taken the post down. I would still never pick up Shatter Me ever again, but I was hoping that with Furthermore, we could create a new beginning.
It wasn't meant to be.
I wanted to love this book, and in some ways, I did. There were some paragraphs I can only describe as being poignant and utterly wonderful. Mafi's fans won't be let down; her writing is full of metaphors. They tend to be hit or miss, but they're plentiful and they're long.
If you haven't read any of Mafi's writing yet, I would describe her books as trying to put John Green's writing into a fantasy novel. You can decide how you feel about that.
Apart from the writing, I feel like the plot is where Furthermore truly shines. Ignoring all the writing and stripping down the characters and plot to what they actually are, this was a fantastical story about love, loss, and betrayal that YA readers will love. However, I can't see people who traditionally read MG loving this.
Maybe it's because I'm not a fan of Mafi's writing style, but this isn't one I think I'll be recommending. It takes way too long to get to the point of anything, and no matter how much I loved the other elements of the story, the writing continued to throw me off at every turn and corner. It threw off the pacing and made the book feel much longer than it actually is. I can see people loving this one, but it wasn't for me.
2 stars.
pg count for the hardback: 446