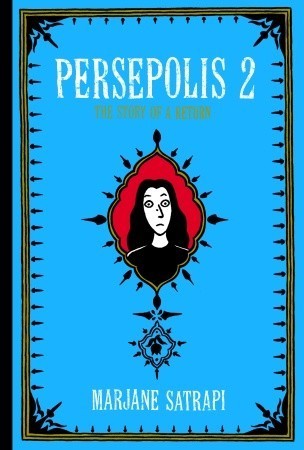 In Persepolis, heralded by the Los Angeles Times as "one of the freshest and most original memoirs of our day," Marjane Satrapi dazzled us with her heartrending memoir-in-comic-strips about growing up in Iran during the Islamic Revolution. Here is the continuation of her fascinating story. In 1984, Marjane flees fundamentalism and the war with Iraq to begin a new life in Vienna. Once there, she faces the trials of adolescence far from her friends and family, and while she soon carves out a place for herself among a group of fellow outsiders, she continues to struggle for a sense of belonging.

Finding that she misses her home more than she can stand, Marjane returns to Iran after graduation. Her difficult homecoming forces her to confront the changes both she and her country have undergone in her absence and her shame at what she perceives as her failure in Austria. Marjane allows her past to weigh heavily on her until she finds some like-minded friends, falls in love, and begins studying art at a university. However, the repression and state-sanctioned chauvinism eventually lead her to question whether she can have a future in Iran.
Description taken from Goodreads.
---
Not everything important is beautiful.
Sometimes, important things are incredibly boring and buried underneath layers and layers of things that aren't important.
Persepolis 2 is that "sometimes". I get what the novel is trying to say, and like its predecessor, Persepolis 2 has some truly great moments that made me want to love the book more than I did. The ending, in particular, was great. However, while I felt that some of this story was brilliantly insightful and a shocking look into a war-torn country, most of it consisted of the aftermath of the war.
In my opinion, Persepolis 2 was much worse than the first book. It had drugs, alcohol, and a myriad of other not-so-great elements as Marjane struggled to find herself. More than that, the negative elements weren't posed in such a way that made them important, that clearly showed Marjane's change. Instead, the plot was repetitive and disappointing. Nothing about the storyline was effectively executed.
In general, the novel was all over the place. I had no idea how to make heads or tales of it, and I ended up skimming most of it. I wouldn't recommend it for middle-schoolers, and I think the first book acting as a stand-alone might just be better. 1 star.