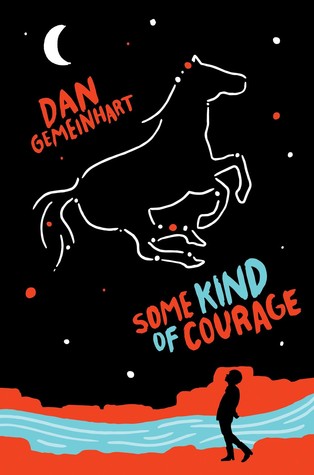 Saddle up for a life-defining, death-defying adventure.

Joseph Johnson has lost just about everyone he's ever loved. He lost his pa in an accident. He lost his ma and his little sister to sickness. And now, he's lost his pony–fast, fierce, beautiful Sarah, taken away by a man who had no right to take her.

Joseph can sure enough get her back, though. The odds are stacked against him, but he isn't about to give up. He will face down deadly animals, dangerous men, and the fury of nature itself on his quest to be reunited with the only family he has left.

Because Joseph Johnson may have lost just about everything; but he hasn't lost hope. And he hasn't lost the fire in his belly that says he's getting his Sarah back–no matter what.
Description taken from Goodreads.
---
The best part of Some Kind of Courage was the historical setting. I'm still debating whether it's better to have that be the only good thing or the only bad thing. In the case of this book, it leans more toward the former.
Some Kind of Courage isn't the kind of book I can foresee any kid picking up on purpose without being coerced by a teacher. It's great to learn from, much like Persepolis, but not a story that I would actively seek out and follow. It's not necessarily the fault of the book, or the writer. The book itself is phenomenally well-written, especially in the historical sense.
I loved the way that it handled racial tensions and addressed everything appropriately while still being accurate. I also enjoyed getting to know Joseph. But the problem laid within the idea. From the start, I wasn't super drawn into what was happening. By the middle of the book, I was staying solely to find out what happened in the end (even though I could guess), and ended up remaining bored even though there was lots of great action going on.
Overall, I wouldn't recommend this one straight off the bat. Maybe for someone looking for an obscure time period to research, or someone with extensive experience in children's historical fiction. Other than that, there are plenty of other great historical fictions that are also super fun to read. 2.5 stars.
pg count for the hardback: 234