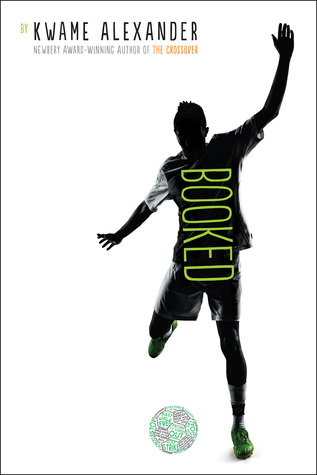 In this follow-up to the Newbery-winning novel THE CROSSOVER, soccer, family, love, and friendship, take center stage as twelve-year-old Nick learns the power of words as he wrestles with problems at home, stands up to a bully, and tries to impress the girl of his dreams. Helping him along are his best friend and sometimes teammate Coby, and The Mac, a rapping librarian who gives Nick inspiring books to read.
This electric and heartfelt novel-in-verse by poet Kwame Alexander bends and breaks as it captures all the thrills and setbacks, action and emotion of a World Cup match!
Description taken from Goodreads.
---
The only question left is what went wrong.
When I wrote my review for The Crossover, I said it was one of the best books written in verse that I've ever read. With Booked, it seems as though my hopes for finding an author who writes epically in verse are gone, at least in Kwame Alexander's case.
Here's my problem with verse: typically, they're saying a whole lot of nothing.
I can stand John Green and Rainbow Rowell because even though their writing is flowery, they're making a poignant, relevant point.
I don't know what, but something went wrong in Booked. It didn't feel the same as The Crossover. It wasn't important, it didn't feel important, and it wasn't purely enjoyable either. There was none of the wit, the humor, the endearment, of the first book. There were some great themes. I loved the positive relationships with librarians in this novel, and the fact that Nick learns to love reading, but it didn't strike (pun intended :3) me nearly as hard as the first book.
I loved The Crossover, and Booked hasn't ruined it for me at all, but it was a disappointment. It could just be a disappointment because my expectations were so high, but I would probably only be recommending this one to soccer lovers. 2 stars.
pg count for the hardback: 320