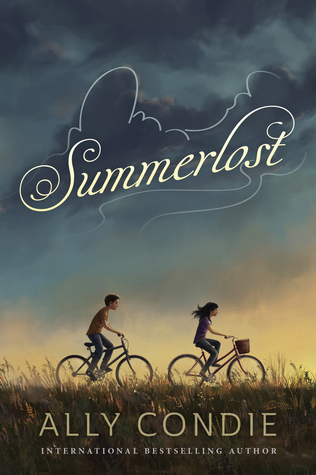 It's the first real summer since the devastating accident that killed Cedar's father and younger brother, Ben. But now Cedar and what's left of her family are returning to the town of Iron Creek for the summer. They're just settling into their new house when a boy named Leo, dressed in costume, rides by on his bike. Intrigued, Cedar follows him to the renowned Summerlost theatre festival. Soon, she not only has a new friend in Leo and a job working concessions at the festival, she finds herself surrounded by mystery. The mystery of the tragic, too-short life of the Hollywood actress who haunts the halls of Summerlost. And the mystery of the strange gifts that keep appearing for Cedar.

Infused with emotion and rich with understanding, Summerlost is the touching middle grade debut from Ally Condie, the international bestselling author of the Matched series, that highlights the strength of family and personal resilience in the face of tragedy.
Description taken from Goodreads.
---
Leo saved this book. When I wrote the sneak peek review for Summerlost, I was pretty wishy-washy as to how I felt because most of me was skeptical but part of me still wanted to love it. Besides, I didn't get to see most of the book anyway, so I still wanted to keep an open mind.
When Leo comes into the picture in this book, he brightens everything up and brings Cedar out of her shell. The plot also gains speed as it approaches the middle. I really enjoyed the descriptions of the theater where Leo and Cedar come to work, and how Cedar finds her place there as she tries to grieve over lost family members.
The one thing that remained the same was Cedar's mourning. The writing, while usually fluid, readable and poetic, felt forced and unnecessary during those segments. I get it, it was terrible for her to lose her father and her brother, but I didn't feel any of the emotion that Cedar claimed to have. I sympathized with her, and yet it was like a robot was trying to explain grief to me.
All in all, not a bad book at all. It had a good ending, and I came to love many of the characters. There's some growth, though not too much, and Cedar comes to terms with everything that's happened. I don't mean to be dramatic, but she truly finds herself and breaks out of this funk because of hew environment and the people around her that support her. In many ways, it resembles Leila Sales' This Song Will Save Your Life.
While it wasn't the best book about grief, I liked this one and will be recommending it. I was initially afraid to see another Ally Condie novel go down the drain (I was so not a fan of Atlantia) but I'd say this was a successful middle-grade debut. 3 stars.
pg count for the hardback: 272