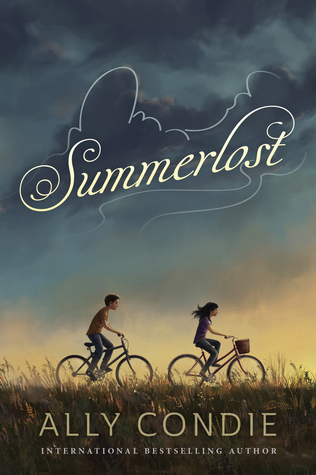 It's the first real summer since the devastating accident that killed Cedar's father and younger brother, Ben. But now Cedar and what's left of her family are returning to the town of Iron Creek for the summer. They're just settling into their new house when a boy named Leo, dressed in costume, rides by on his bike. Intrigued, Cedar follows him to the renowned Summerlost theatre festival. Soon, she not only has a new friend in Leo and a job working concessions at the festival, she finds herself surrounded by mystery. The mystery of the tragic, too-short life of the Hollywood actress who haunts the halls of Summerlost. And the mystery of the strange gifts that keep appearing for Cedar.

Infused with emotion and rich with understanding, Summerlost is the touching middle grade debut from Ally Condie, the international bestselling author of the Matched series, that highlights the strength of family and personal resilience in the face of tragedy.
Description taken from Goodreads. I received a preview of this book, to be published  via the publisher in exchange for an honest review. These opinions are my own.
---
Ally Condie is back… except not with a dystopian novel, but a middle-grade debut. As of right now, I'm still debating whether or not the cover is the only thing about this book that's pretty, but I think I need to see more to really make a judgement call. I'm interested, but part of me thinks that Condie is better off writing fantasy/dystopian/sci-fi lit.
I did enjoy the story, though there were many unnecessary bits of information everywhere. The main plot with all the tragedy is pretty cliché at this point in middle-grade contemporary, but maybe that's because I haven't seen what the mysterious boy (known as Leo in the blurb, known as "Nerd-on-a-Bike" in the story) will bring up yet. Condie's writing is still engaging, but not nearly as much now that there's less to describe. We know what sun and towns typically look like, and there's a cap on how much time you can spend world-building if you're doing realistic fiction.
It's too soon to make a real call on this book, but while I did have several minor issues with it, it caught my attention, and I'm looking forward to seeing what Condie will come up with later in the story. Based on the beginning, I think I will end up recommending it, but we'll see.