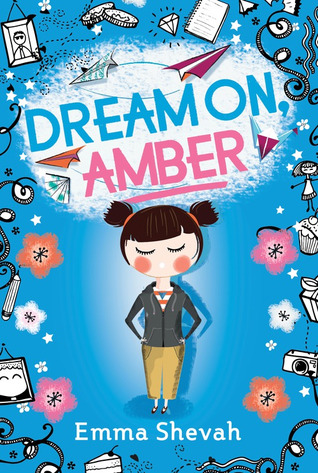 My name is Amber Alessandra Leola Kimiko Miyamoto.
I have no idea why my parents gave me all those hideous names but they must have wanted to ruin my life, and you know what? They did an amazing job.

As a half-Japanese, half-Italian girl with a ridiculous name, Amber's not feeling molto bene (very good) about making friends at her new school.

But the hardest thing about being Amber is that a part of her is missing. Her dad. He left when she was little and he isn't coming back. Not for her first day of middle school and not for her little sister's birthday. So Amber will have to dream up a way for the Miyamoto sisters to make it on their own…
Description taken from Goodreads. I received an advance copy of this book via the publisher in exchange for an honest review. These opinions are my own.
---
DREAM ON, AMBER technically is YA, but it reads like middle-grade (maybe even lower) lit, and that's not necessarily a bad thing. Well, okay, I didn't love it as much, because I felt that if this read like a YA book, it could be one of the most funny and accurate freshman year experiences that I've read.
There were many times when I related to and laughed at Amber's circumstances. She's a funny, relatable and quirky heroine whom I loved to read about. The narrative style was perfect for this story and I really appreciated Shevah's voice through Amber.
There were so many things to love about this book, but my favorite was how much Amber grew throughout this novel. Amber learns so much through her first year in high school, and Shevah portrayed that very well.
All in all, I will be recommending this book. While it is young, it has some great themes and it was a joy to read. Certain events and Amber's reactions to them make this book seem a little whimsical and young, but I think this will be a great book for 7th and 8th graders. 4 stars.
pg count for the hardback: 272