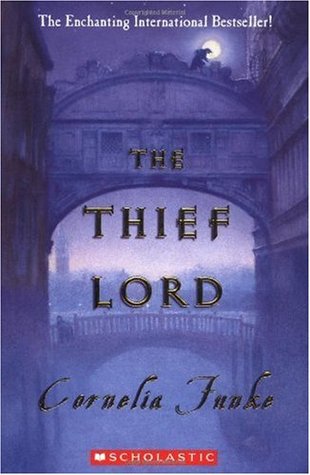 Welcome to the magical underworld of Venice, Italy. Here, hidden canals and crumbling rooftops shelters runaways and children with incredible secrets….

After escaping from their cruel aunt and uncle, orphans Prosper and Bo meet a mysterious boy who calls himself the "Thief Lord." Clever and charming, The Thief Lord leads a band of street children who enjoy making mischief. But the Thief Lord also has a dark secret. And suddenly Prosper and Bo find themselves on a fantastical journey to a forgotten place. What they discover there will change the course of their destiny… forever.
Description taken from Goodreads.
---
Taking you back in time a little bit, back when I first started blogging I was only blogging about books that I'd read anywhere from two months ago to ages ago. I never really blogged about the books I'd just read. The sad truth of the matter is, as I found out when I start reading other people's blogs, that you can't do that all the time. People want to know about what's new, not necessarily what's old, so I decided to change up my lineup a little bit. However, I still wanted to blog about books that I loved, so here is THE THIEF LORD.
My paperback copy of this book is as worn as my paperback of THE LIGHTNING THIEF by Rick Riordan, which should definitely say something about THE THIEF LORD because Rick Riordan is one of my favorite writers of all time, and TLT started it all. There's so much to say, but I guess I'll start with the writing and world-building.
From the very beginning, THE THIEF LORD kicks off building up the reader's image of Venice with beautiful prose and diction. I loved getting to know this world so much that it inspired me to want to travel to Venice, to see the world for myself, to get completely absorbed in it all. Funke's writing is pitch perfect for this book, just as it was in INKHEART.
Then we get introduced to the characters, the heart of this novel. There's Victor, an amateur detective sent to hunt after Prosper and Bo, who knows that something's up with the two of them. There's Prosper, the older, more mature, more responsible one, who loves his family more than anything. Bo, the younger one who spends his days looking up to Prosper and dreaming. There's the thief lord that they serve, and the friends that took in Bo and Prosper.
Funke's writing comes to life on the page and left me stunned in the best way. It continues to do so every time I read it. This book is marketed towards middle-grade readers, but is accessible to everyone. I would definitely recommend it to anyone interested. Even though I've read it time and time again, Funke's THE THIEF LORD is more than worthy of a time to time throwback read. 4.5 stars.
pg count for the paperback: 345