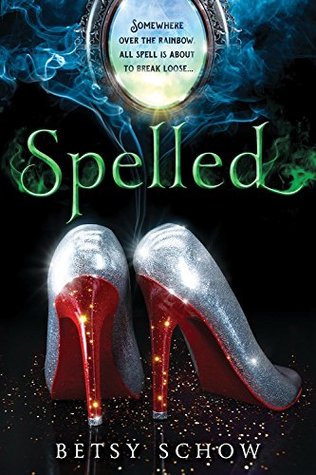 Fairy Tale Survival Rule #32: If you find yourself at the mercy of a wicked witch, sing a romantic ballad and wait for your Prince Charming to save the day.

Yeah, no thanks. Dorthea is completely princed out. Sure being the crown princess of Emerald has its perks—like Glenda Original ball gowns and Hans Christian Louboutin heels. But a forced marriage to the brooding prince Kato is so not what Dorthea had in mind for her enchanted future.

Talk about unhappily ever after.

Trying to fix her prince problem by wishing on a (cursed) star royally backfires, leaving the kingdom in chaos and her parents stuck in some place called "Kansas." Now it's up to Dorthea and her pixed off prince to find the mysterious Wizard of Oz and undo the curse…before it releases the wickedest witch of all and spells The End for the world of Story.
Description taken from Goodreads. I received an advance copy of this book, to be released June 2nd, 2015, via the publisher in exchange for an honest review. These opinions are my own.
---
I don't even know what to say when it comes to this book.
The first half, I was hating Dorthea and laughing way more than I ever expected that I would with SPELLED. The second half, I was loving Dorthea and laughing way more than I ever expected that I would with SPELLED.
If you love fairy tales, I would definitely recommend this book for you. SPELLED is a really refreshing twist on the whole Oz scheme of things, and that's not all. Schow surprised me at every turn with SPELLED. There were a lot of components to it that I didn't realize this book went over, and I ended up loving those parts of it. There's romance, but no instalove (YES) and the characters are all very different, but lovable and quirky in their own ways.
As different as SPELLED was, I really appreciated how non-whimsical it is. A lot of middle-grade lit these days is, and it ends up being a little overwhelming. SPELLED was not like this in the least, and a lot of that can be contributed to the heroine.
Dorthea is… interesting. She's very, very much a girl in the girliest sense, and she's pretty spoiled. She's used to getting her way and is overall, a pain. However, she grows! I have so been looking forward to another one of these stories because I am sick of no character development. Dorthea comes to be this awesome, funny person who's considerate of other people (and in love :3) without losing herself. I came to really like her, and to enjoy her narration.
Definitely will be recommending. 4.5 stars.
pg count for the paperback: 352