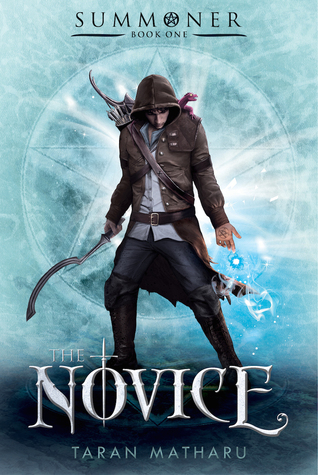 When blacksmith apprentice Fletcher discovers that he has the ability to summon demons from another world, he travels to Adept Military Academy. There the gifted are trained in the art of summoning. Fletcher is put through grueling training as a battlemage to fight in the Hominum Empire's war against orcs. He must tread carefully while training alongside children of powerful nobles. The power hungry, those seeking alliances, and the fear of betrayal surround him. Fletcher finds himself caught in the middle of powerful forces, with only his demon Ignatius for help.

As the pieces on the board maneuver for supremacy, Fletcher must decide where his loyalties lie. The fate of an empire is in his hands. The Novice is the first in a trilogy about Fletcher, his demon Ignatius, and the war against the Orcs.
Description taken from Goodreads. I received an advance copy of this book, published May 5th, 2015
---
If you're a raw fantasy kind of person, I think you'll enjoy this story. It has enough elements oF MG and YA to bridge both, and it has a lot of world-building, plot and development in characters. I really enjoyed getting to know Taran Matharu's world, even though it wasn't the most original that I've ever read, I still really liked the way that he put his characters into certain situations based on all traditional fantasy.
I've been reading a lot of great dystopia and fantasy lately, but it's always nice to go back to traditional fantasy. THE NOVICE (beautiful cover by the way), was a breath of fresh air for me in that sense. I loved the way that this book was set in a fantastical world but still talks about issues like racism. In those senses, I really liked THE NOVICE.
What I didn't love was pacing. I really wished that the first 100 or so pages went by a little faster. In that time period, nothing really happens until the end of it. Sure, we get introduced to Fletcher. Sure, we get to understand how he's bullied and his struggles in the village. Sure, things are set up. It just got really grating over time because I felt like the explanations were moving in circles. I loved getting to know the setting, but I wanted to see more, I wanted to see a story on the setting.
Other than the pacing, THE NOVICE was pretty good. I really loved the different little creatures within this story and the people Fletcher surrounds himself with. I wasn't a fan of this book as much because I just didn't connect with a few of the characters, or really Fletcher at times, but THE NOVICE was still really entertaining for me and I can see myself recommending it to other fantasy lovers. For fans of John Flanagan, I think this would be an awesome read. It isn't as accessible by middle-graders necessarily, but definitely recommended for boys 13-15 looking to bridge the gap between middle-grade reads and young-adult reads. 3 stars.
pg count for the hardback: 368
Series: Summoner #1