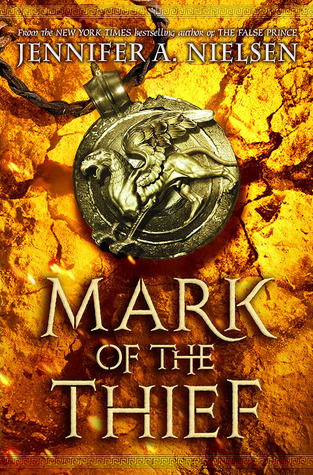 When Nic, a slave in the mines outside of Rome, is forced to enter a sealed cavern containing the lost treasures of Julius Caesar, he finds much more than gold and gemstones: He discovers an ancient bulla, an amulet that belonged to the great Caesar and is filled with a magic once reserved for the Gods — magic some Romans would kill for.

Now, with the deadly power of the bulla pulsing through his veins, Nic is determined to become free. But instead, he finds himself at the center of a ruthless conspiracy to overthrow the emperor and spark the Praetor War, a battle to destroy Rome from within. Traitors and spies lurk at every turn, each more desperate than the next to use Nic's newfound powers for their own dark purposes.

In a quest to stop the rebellion, save Rome, and secure his own freedom, Nic must harness the magic within himself and defeat the empire's most powerful and savage leaders.
Description taken from Goodreads.
---
First of all, Ancient Rome.
Second of all, Jennifer A. Nielsen.
For these reasons, I just had to read MARK OF THE THIEF, and I'm glad I did. This book is incredibly well-researched, with awesome dialogue, good, memorable characters and a well-rounded world. I loved getting to know the world around Nic and his journey through betrayals and epic friendships not unlike THE FALSE PRINCE by the same author, one of my favorite books.
One of the things I missed that I missed in the final moments of the Ascendance Trilogy was the twists and turns that I saw in THE FALSE PRINCE. There was plenty of plot to fill in the gaps in MARK OF THE THIEF, and a good amount of things to focus on, but I really wanted to be surprised and shocked like I always am when I read the book that started my love of Jennifer A. Nielsen.
Then there's the lack of an amazing main character. Nic has spunk and he's a clever guy that I ended up really loving and respecting, but I really wished that he'd spent less time being saved and more time saving others. Other than that, I really loved this story. Pacing wasn't always great, but it wasn't really noticeable. This was another great work from Nielsen, entertaining and quick, and I will be recommending it. 4 stars.
pg count for the kindle: 352
Series: Mark of the Thief #1