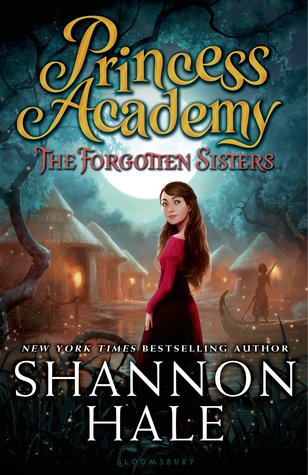 After a year at the king's palace, Miri has learned all about being a proper princess. But the tables turn when the student must become the teacher!

Instead of returning to her beloved Mount Eskel, Miri is ordered to journey to a distant swamp and start a princess academy for three sisters, cousins of the royal family. Unfortunately, Astrid, Felissa, and Sus are more interested in hunting and fishing than becoming princesses.

As Miri spends more time with the sisters, she realizes the king and queen's interest in them hides a long-buried secret. She must rely on her own strength and intelligence to unravel the mystery, protect the girls, complete her assignment, and finally make her way home.

Fans of Shannon Hale won't want to miss this gorgeously woven return to this best-selling, award-winning series.
Description taken from Goodreads.
---
Years after I first read the first Princess Academy book, and I still love the feel and writing of this book. It has the same characters, and it's been awesome watching them grow up and go through their own adventures. This book did let me down in a few ways, but it was really fun to come back to this world and see a new princess academy laid down, especially for people who aren't really princesses. This is a very Disney style story setting that I still enjoy to this day and is great for middle-grade girls.
Just a few nit-picky things: I don't know if it's because I'm older and have read a lot more books now or it's the book, but this story gets kinda cheesy over the course of it. I mean 5-girls-holding-hands-in-a-row type of cheesy, and that's just the beginning. I think tweens will pick up on that, but I don't think it'll be that much of a problem. Another thing: I do feel like the characters could've really been a lot more in this story. I wish that more time had been invested in the princesses, because I had high expectations for them that fell through in the character development process. This book is more about Miri than anyone else; it's less a book about a group and more a book about one hero. Definitely interesting to see, but the first book remains my favorite of the series.
Other than that, I really loved this book. Hale moves from describing mountains to describing swamps incredibly well, and I think the world-building and plot were my favorite elements of this story. Great book I would definitely recommend, I just wish it'd had a little bit more. 3.5 stars.
pg count: 323
Series: Princess Academy #3