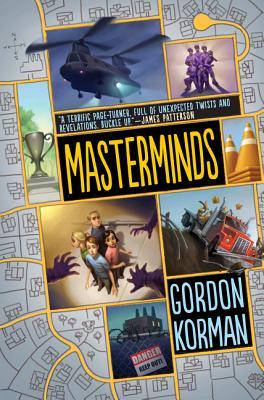 From bestselling author Gordon Korman comes a thrilling new middle grade trilogy about a group of kids living in a Pleasantville-type town who discover a dark secret that connects them to some of the greatest criminal masterminds of their time.

Eli Frieden lives in the most boring town in the world: Serenity, New Mexico. Only thirty kids live in the idyllic town, where every lawn is perfectly manicured and everyone has a pool and a basketball hoop. Honesty and kindness are the backbone of the community. There is no crime in this utopia.

Eli has never left town…. Why would he ever want to? But everything changes the day he and his friend Randy bike to the edge of the city limits. Eli is suddenly struck with a paralyzing headache and collapses. Almost instantly, a crew of security—or "Purple People Eaters," as the kids call them—descend via helicopter. Eli awakens in the hospital, and the next day, Randy and his family are gone.

As Eli convinces his friends Tori and Malik to help him investigate Randy's disappearance, it becomes clear that nothing is as it seems in Serenity. As the clues mount to reveal a shocking discovery, the kids realize they can trust no one—least of all their own parents. So they hatch a plan for what could be the greatest breakout in history—but will they survive? And if they do, where do they go from there?

This first book in a thrilling new series from the middle grade "mastermind" Gordon Korman is sure to be a hit with his myriad fans..
Description taken from Goodreads.
---
Gordon Korman has done it again. He has managed to completely and utterly hook me into this story and this series. I came to love the characters, storyline and setting so much–and everything was executed perfectly. It was all even better than I had imagined it in my mind.
One thing I didn't like was the changing around of the narration. I felt like it really worked in Schooled, also by Gordon Korman, but it didn't work entirely in this book. I do think it could've been kept to two or three key people and would've been more efficient. Still, I got to see into the heads of more characters the way that the narration was set up, so I didn't mind it too much.
MASTERMINDS has an awesome plot that doesn't move too quickly or too slowly. There are some great suspense elements, sort of that your-world-is-a-lie Matrix feel, but it doesn't have a whole lot of action. I would still recommend it to boys, definitely, but not for boys who need the thrills on every single page. For anyone, boys and girls of any age, I would back this story. It may seem more marketed toward the male demographic, but there are plenty of girl characters in here that it would still be appealing.
There are great plot elements to it as well as funny parts and complex characters. I loved everyone individually and felt like each stood on their own. I really liked the way that characters didn't just disappear and that they came back again, and I can't wait to see what happens in the sequel! 4.5 stars.
pg count for the hardback: 336