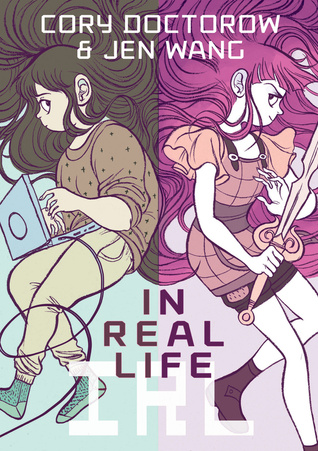 Anda loves Coarsegold Online, the massively-multiplayer role-playing game where she spends most of her free time. It's a place where she can be a leader, a fighter, a hero. It's a place where she can meet people from all over the world, and make friends.

But things become a lot more complicated when Anda befriends a gold farmer–a poor Chinese kid whose avatar in the game illegally collects valuable objects and then sells them to players from developed countries with money to burn. This behavior is strictly against the rules in Coarsegold, but Anda soon comes to realize that questions of right and wrong are a lot less straightforward when a real person's real livelihood is at stake.

From acclaimed teen author (Little Brother, For the Win) and Boing Boing editor Cory Doctorow and Koko Be Good creator Jen Wang, In Real Life is a perceptive and high-stakes look at adolescence, gaming, poverty, and culture clash.
Description taken from Goodreads.
---
I would definitely recommend this to people who game, if you were wondering. Cory Doctorow always does a fabulous job with his tech-related books, appealing to the reader and capitalizing on the way that his general demographic (YA) looks at electronics and games.
Take a certain scene in this book, for example. Anda gets banned from online gaming by her mom because she gets paid to kill gold farmers inside the game and mysterious guys are depositing money in Anda's PlayPal account. D: I won't pretend like I believe this was the wrong thing to do, especially because her mom believes that she's in danger. In fact, it probably was the right thing to do. The thing is that almost all kids (and adults too) can sympathize with the idea of their parents or teachers not listening to them and punishing them for something that they may not understand.
Again, Anda's mom–in my mind–did the right thing, but at the same time I believe Anda's mom should have heard out what Anda had to say and Anda should've told her mom about what was going on in the first place.
The world is no longer a place where, for the most part, a random stranger could have access to someone's life. Being a public figure is dangerous, and being a public figure solely on the internet could arguably be even more dangerous.
Overall, I really liked this book. I did think that it lacked a few transitions and that there were a few loose ends at the end of the story but it was very readable. I loved the parts where Anda began to become her own person through the game and showing the video games are, in fact, not always a waste of time. This will most definitely be a book that I will be reading again. I would recommend it for seventh to eighth graders. It has a lot of lessons about identity, internet safety and video games. It's also very entertaining and the artwork was a lot of fun to see come to life. Will be looking out for more from Jen Wang. 4 stars.
pg count for the paperback: 176