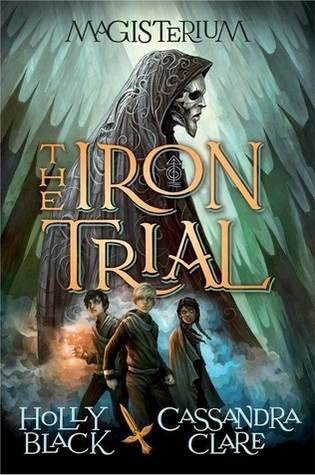 Most kids would do anything to pass the Iron Trial.

Not Callum Hunt. He wants to fail.

All his life, Call has been warned by his father to stay away from magic. If he succeeds at the Iron Trial and is admitted into the Magisterium, he is sure it can only mean bad things for him.

So he tries his best to do his worst – and fails at failing.

Now the Magisterium awaits him. It's a place that's both sensational and sinister, with dark ties to his past and a twisty path to his future.

The Iron Trial is just the beginning, for the biggest test is still to come . . .
Description taken from Goodreads.
---
So. I didn't love Harry Potter.
I get it, I get it. Honestly. I could go on for awhile on all the very detailed reasons Harry Potter just did not stick with me, but in short I can understand the appeal–but the writing style didn't connect with me and I felt like the whole book in general wasn't spectacular. That being said, I actually did read most of the Harry Potter books.
But before I go into that, I must explain all of this first.
Holly Black–THE COLDEST GIRL IN COLDTOWN, WHITE CAT, all of that great stuff. While I normally don't love paranormal, her books are entertaining, at the very least, and have good ideas behind them.
Cassandra Clare–THE MORTAL INSTRUMENTS, THE INFERNAL DEVICES, both great series. I am, personally, a fan of TID, but that is a whole other discussion (one that could go on for weeks and weeks on end). In case you've never heard of this author before, she's extremely talented. I do like her work a lot, but see–here's the problem: she always writes the exact same thing. I see TID and TMI as the baselines, her two main series for which she is known for. Then everything else that stems off is set in the same worlds, with the same frameworks for characters and relatively the same plots.
I'm not the only one that feels this way, and so when I saw that this book was different, I was a little surprised.
Here's the catch though: THE IRON TRIAL has a TON of characters and patterns that are straight-up Potterhead land. There's even Draco. Draco.
To an orthodox Potterhead, I'm not sure how upsetting this will be–or even if it will be upsetting at all, but I didn't love it.
Then there's the rest of the book. There are definitely recognizable Holly Black/Cassandra Clare traits in each of the different parts of the book, and I really appreciated that. While many of the magic elements were Harry-Potter influenced, I still really enjoyed reading about it and seeing it come to life.
Many people have addressed the twists and turns to this book and while I did see many of them coming, I did not see the last one. While I didn't necessarily love it, I really enjoyed how it surprised me.
Overall, characters were awesome. I enjoyed the mix of diverse personalities, backgrounds and identities and the way things panned out. While I did skim some in the middle, pacing wasn't too bad and was actually great in the beginning and end.
Despite all these great things, there were several instances where things either did not make sense to me or simply did not convince me of the world that they were living in. While this read was entertaining, I would not recommend it to any fan of Harry Potter or anyone who enjoys the ever-continuing line of Shadowhunters. If you would like to read something like this book, read Harry Potter–or something along the lines of Jennifer Nielsen's THE FALSE PRINCE. Fantastic, original book with a great twist.
2 stars.
pg count for the hardback: 299