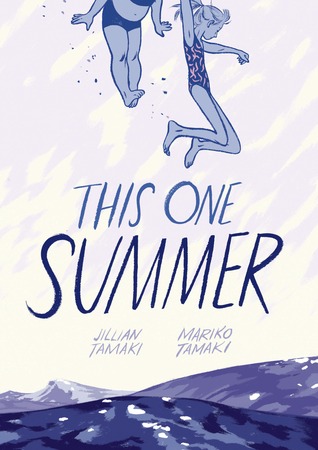 Every summer, Rose goes with her mom and dad to a lake house in Awago Beach. It's their getaway, their refuge. Rosie's friend Windy is always there, too, like the little sister she never had. But this summer is different. Rose's mom and dad won't stop fighting, and when Rose and Windy seek a distraction from the drama, they find themselves with a whole new set of problems. It's a summer of secrets and sorrow and growing up, and it's a good thing Rose and Windy have each other.

In This One Summer two stellar creators redefine the teen graphic novel. Cousins Mariko and Jillian Tamaki, the team behind Skim, have collaborated on this gorgeous, heartbreaking, and ultimately hopeful story about a girl on the cusp of her teen age—a story of renewal and revelation.
Description taken from Goodreads.
---
It really wasn't anything about the artwork of THIS ONE SUMMER that lowered my rating for this book. Though the graphics of THIS ONE SUMMER really were not my style, I still loved the detail and the simple beauty to the way that this book was crafted. However, I don't know exactly what I was thinking/expecting when I went into this story, because I was expecting something completely different.
THIS ONE SUMMER is portrayed as a coming-of-age story. While that is true in some regards, one of my biggest issues with this book was the fact that I felt like Rose didn't really learn anything. Overall, the whole book seemed pretty bland to me–and that was what truly made this story fall short for me. While Rose and Windy are surrounded by things that make them think twice about particular situations, they never really come to any sort of revelation or climax.
Overall, TOS wasn't bad, per say. There was nothing wrong with the pacing or the writing or even the characters. I loved the basis for Windy and Rose, even if Windy seemed a little bit off to me. TOS was just different, and I felt like all the potential for this story kind of faded into nothingness as the book went on. I had hoped to see more from this book, and while it is entertaining there are definitely much better graphic novels out there. Here's a list of some of my favorites in graphic novels and comics.
Of course, while I didn't love this book and I probably would not recommend it to someone who does not usually like/read these types of books, I still think that this book will appeal to girls of contemporary fiction in the middle-grade genre. There are good scenes in this story, and it was entertaining at many points. However, TOS was just not for me.
2.5 stars.
pg count for the hardback: 320