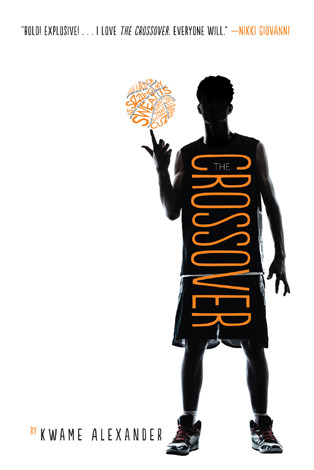 ""With a bolt of lightning on my kicks . . .The court is SIZZLING. My sweat is DRIZZLING. Stop all that quivering. Cuz tonight I'm delivering, "" announces dread-locked, 12-year old Josh Bell. He and his twin brother Jordan are awesome on the court. But Josh has more than basketball in his blood, he's got mad beats, too, that tell his family's story in verse, in this fast and furious middle grade novel of family and brotherhood from Kwame Alexander ("He Said, She Said" 2013).

Josh and Jordan must come to grips with growing up on and off the court to realize breaking the rules comes at a terrible price, as their story's heart-stopping climax proves a game-changer for the entire family.
Description taken from Goodreads.
---
I'll be perfectly honest when I say what I usually don't like books that are in verse. Something about the style just doesn't speak to me, which I guess doesn't make sense because I love rap, slam poetry and song lyrics–even written down–but I guess I just don't find myself in the words. I didn't know CROSSOVER was in verse when I first picked it up, and I probably wouldn't have if I had known.
But I'm glad I didn't know.
CROSSOVER is one of the best books I've ever read in verse, and about basketball in general. It wouldn't be a stretch to say that Alexander easily stands up to fiction sport giant Mike Lupica. I know that, especially for the target demographic, the verse style will not be popular for a lot of kids, but I think that because of it's uniqueness it will stand out nonetheless. It really is more like rap than verse, and Josh spouts some pretty catchy verses in this book.
I loved CROSSOVER, to be frank. Yes, I did think the book had some issues. There were several minor plot points that were addressed once and then not revisited afterwards, but I couldn't help but genuinely enjoy this story. There is so much heart behind the words. The plot to CROSSOVER is not the most shocking or even shocking at all (because it is quite predictable), but I didn't mind that as much as I usually do for books. Alexander tells this story in a way that is fresh, hopeful and heartbreaking all at the same time.
I think that students will really be able to relate to this book and even those who do not usually enjoy books about basketball will get into this story because of the many different themes it goes over. Fantastic read! 4.5 stars.
pg count for the hardback: 240