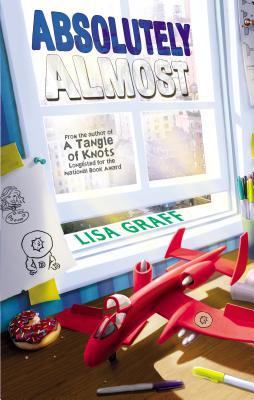 Albie has never been the smartest kid in his class. He has never been the tallest. Or the best at gym. Or the greatest artist. Or the most musical. In fact, Albie has a long list of the things he's not very good at. But then Albie gets a new babysitter, Calista, who helps him figure out all of the things he is good at and how he can take pride in himself.

A perfect companion to Lisa Graff's National Book Award-nominated A Tangle of Knots, this novel explores a similar theme in a realistic contemporary world where kids will easily be able to relate their own struggles to Albie's. Great for fans of Rebecca Stead's Liar and Spy, RJ Palacio's Wonder and Cynthia Lord's Rules.
Description taken from Goodreads.
---
Lots of positives for this story. For one thing, I really enjoy the way that Lisa Graff writes. I felt like I really understood Albie as a character and his connection with Calista as time went on. I loved his voice and how smoothly the pace went along.
One thing I didn't like, especially in the beginning, was not knowing exactly what was wrong with Albie. I wasn't sure if he had a learning disorder or a disability or what. Then I figured out there is nothing wrong with Albie, he's just a kid who thing don't come to as easily. How Albie deals with all of the things piled on top of him with the help of Calista is the endearing trait to the story, what makes it memorable. After that, I found a lot of other things I admired about the premise of this book. I feel like Albie's story tells the tale of many kids who just aren't talented or witty or traditionally smart the way that other people are.
Then there's the parents. I didn't love how Calista got treated by Albie's parents, but I decided to let that one slide because of what happened afterward.
Overall, this is a really great story. I loved the NYC setting and I felt like I was back in the city again because of it. Albie brought a lot of heart to the setting and I really enjoyed seeing that. There's also an interesting use of TV that I had mixed feelings about–but ultimately enjoyed. Awesome, light coming of age story. 4 stars.
pg count for the hardback: 288